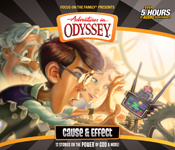 l
Our family was thrilled to have the opportunity to review the newest CD set featuring the crew from Odyssey in "Cause and Effect"!
It's all-new Adventures in Odyssey episodes in volume 52, Cause & Effect. Join Eugene and Matthew as they investigate why the clock tower at City Hall seems to be counting down to a mysterious deadline. Could it have something to do with the anniversary of a lost love from twenty years ago? Barrett couldn't be more excited about getting the lead role in the school play. But when his first practice is interrupted by a mysterious booming voice, Emily Jones must investigate the "phantom of the school play." Also, perfect for the holiday season, are stories on Thanksgiving ("A Thankstaking Story") and Christmas ("Grandma's Christmas Visit").
Adventures in Odyssey is fun and exciting audio entertainment that teaches quality character traits and ignites the imagination of all who listen. Imagine, Discover, and Grow with Adventures in Odyssey.
I was first introduced to the gang from Adventures In Odyssey right after my husband and I were married. He was flipping through the radio stations one day and got excited when he heard the episode that was airing. I had no idea why he was so excited over a "kid's show" (or so I thought it was for kids!).
Ever since that day I have loved listening to Odyssey and have loved even more that my kids enjoy it, too. We listen in the car, at bedtime, and when we're just hanging out at home.
This 4 disc set has some great new adventures that the whole family will love. My favorite is the very first on the set--The Mystery of the Clock Tower. This one had us all on the edge of our seat and we sat in the parking lot of an outlet mall until it was over! My husband and I were both shocked at the conclusion!! We haven't listened to the Thanksgiving or Christmas selections but plan to closer to the holiday.
I love that Adventures In Odyssey keeps my kids attention with the fun stories and that they are learning valuable life lessons at the same time. Adventures In Odyssey is a wonderful tool to help you instill Biblical values in your children, and any of the Odyssey CD sets would be a great Christmas or Birthday gift!! Cause and Effect retails for $24.99 and you can find it here or here.
*

This is a compensated review for Mama Buzz. I was given the CD set in exchange for my review.